Turmeric Superblend With Cardamom
Regular price

Sale price

$37.00
Only Available Online.
• The Only Great Taste Award-winning Turmeric Superblends.
• High-Quality Grade Containing Triple-Strength (7%) Curcumin–the most powerful whole-root turmeric.
• Expertly-Blended Ingredients That Optimise Turmeric's Remarkable Health Benefits.
• Easy Absorption
• Versatile in the kitchen, delicious in food, and cold and hot drinks.
• 10+ years of great customer and industry reviews.
• Organically and sustainably wild-harvested.
• Made from a traditional Ayurvedic formula.
 Turmeric Health Benefits
Helps keeps the skin healthy
Helps maintain the efficacy of the immune system
Helps maintain the health of joints & bones
Helps maintains the health of the liver
Helps support heart function & blood circulation
Product Awards
SugaVida's Turmeric Superblend with Cardamom won 1 Gold Star in the 2017 Great Taste Awards – the world's most trusted food and drink awards.
Ingredients

Organic Palmyra Blossom Sugar (SugaVida - contains Palmyrin™), Organic Turmeric powder, Organic Black Pepper, Organic Cinnamon powder, Organic Cardamom powder, Inulin powder, Coconut extract.
Nutritional information

Nutritional information Per 100g: Energy 1552kJ/365kcal; Fat 1.0g, of which saturates 0.6g; Carbohydrate 86.5g, of which sugars 79.66g; Protein 2.6g; Salt 0.32g.

Vitamins and Minerals per 100g serving: Vitamin B1 2.65mg; Vitamin B2 5.34mg; Vitamin B3 7.8mg; Vitamin B6 3.5mg; Vitamin B9 1130ug; Vitamin B12 6.5ug; Iron 6.55mg; Copper 0.76mg; Calcium 352.81mg.

Vitamins and Minerals % Nutrient Reference Values Per 8g serving: Vitamin B1 19; Vitamin B2 30; Vitamin B3 4; Vitamin B6 20; Vitamin B9 45; Vitamin B12 20; Iron 4; Copper 6; Calcium 4.
Recommended Usage

Try adding a teaspoon to smoothies, juices or protein shakes, sprinkle onto porridge, or blend with hot milk to create a traditional Golden Milk.
Servings

30 servings (8g) per 240g pack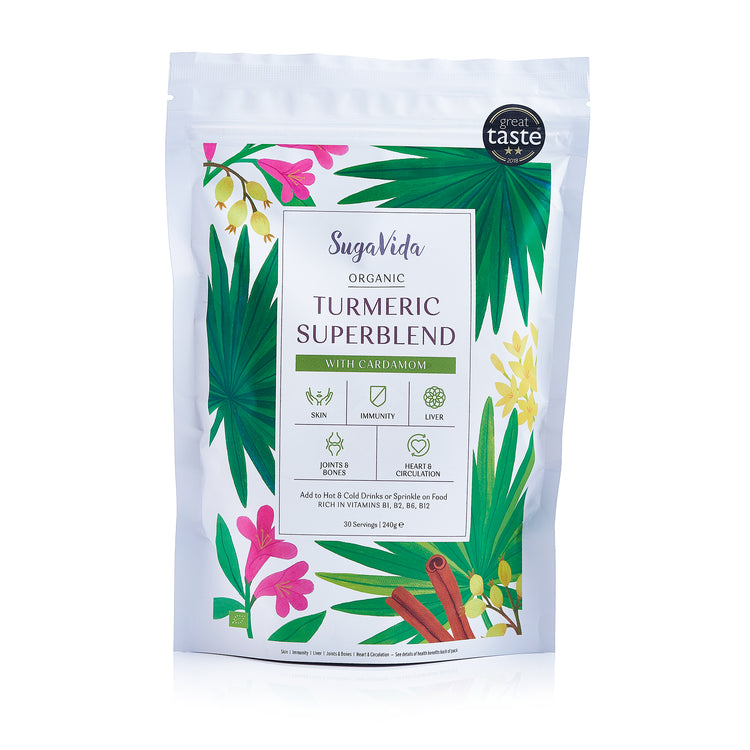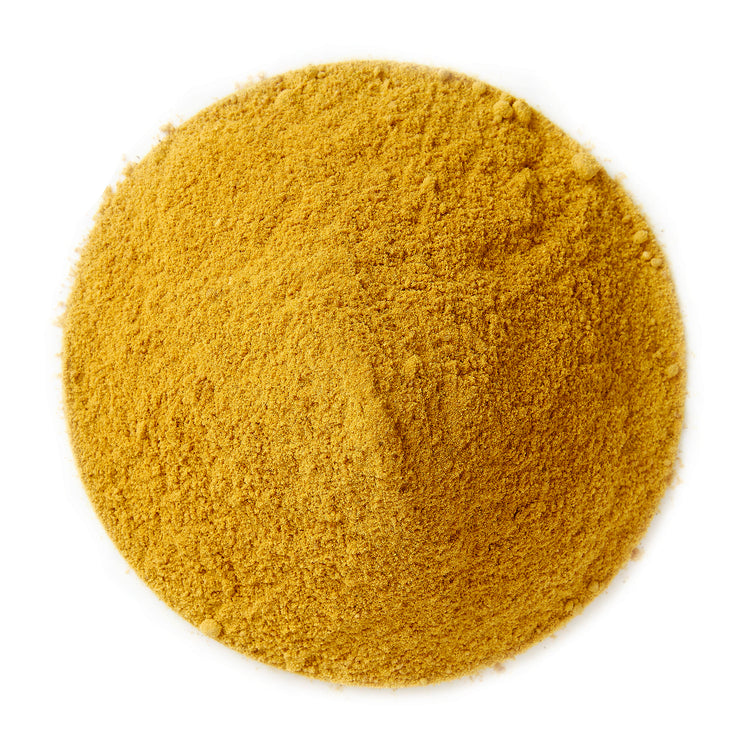 100% Natural
Award Winning
Fabulous taste, very enjoyable!!
Thank you for discovering this great taste, that's so super healthy, to add to my repertoire!!
Wonderful!
This is my favourite blend. I add a good teaspoon to my organic, half oatmilk and organic, half cow's milk coffee, each morning. Apart from the flavoursome taste, I hope that the benefits as suggested, help me too. So far, no complaints, so hopefully, this is not untrue indeed.
Tumeric Superblend with Cardamon
I love this blend, it is delicious and I believe it helps with my overall health and wellness.
My favourite Turmeric Superblend
I love all the Turmeric Superblends and Cardamon is my favourite. I love the taste and best of all I love the health benefits, helps with my stiff joints and shoulders.