Ayurvedic Digestif Mix
Regular price

Sale price

$33.00
'This little pot of goodness changed my life' - Sue 
Only Available Online.
Ayurvedic Digestif Mix is a revolutionary fusion of rebalancing herbs and seeds to chew after meals formulated to get your digestive enzymes back into action!
Chewing is the most important part of the digestive process, connecting the brain to the gut and activating our digestive enzymes. 
This mix is is the only natural supplement which incorporates this all-important action, with the herbs & seeds in our proprietary blend working synergistically with the body to help optimise digestion. 
Over time this process becomes automatic, re-teaching the brain & body how to break down food properly and avoid digestive imbalances. 
The ingredients in our multi-award winning blend are specially selected for their efficacy, and have helped over 100,00 people worldwide with their digestive issues to date. 
For optimum results, we recommend starting with our 3 month Digestive Reboot & Restore Programme (SAVE £10) 
The only digestive aid that helps build healthy chewing habits to optimise digestive health
Proprietary blend of herbs and seeds sourced for their efficacy and highest quality.
10+ years of amazing customer and industry reviews.
Inspired by traditional digestive aids used in India and southern Asia.
Sustainably, and where possible organically, wild-harvested.
Includes our Palmyra Blossom Nectar, so you benefit from the 

bioavailable vitamin B12 and a great taste! 
Health Benefits (based on customer results)
relieves constipation
reduces gas and bloating
calms IBS symptoms
helps with acid reflux
Ingredients

Sweet Fennel, White Sesame Seeds, Palmyra Blossom Nectar, Flax Seeds, Dhania Dal, Ajwain, Peppermint Herb (<2%), Liquorice Powder (<2%), Hari Patti leaves (<2%)
Recommended Usage

Take ½ teaspoon (approx 1.1g) of the seed mix after each meal and chew thoroughly (at least 40 times) before swallowing.

As a first-time treatment, we recommend taking Ayurvedic Digestif Mix continuously for a period of 3 months. It can then be discontinued or used on an ad hoc basis.
Servings

90 servings per 100g pot (approximately 1 month supply)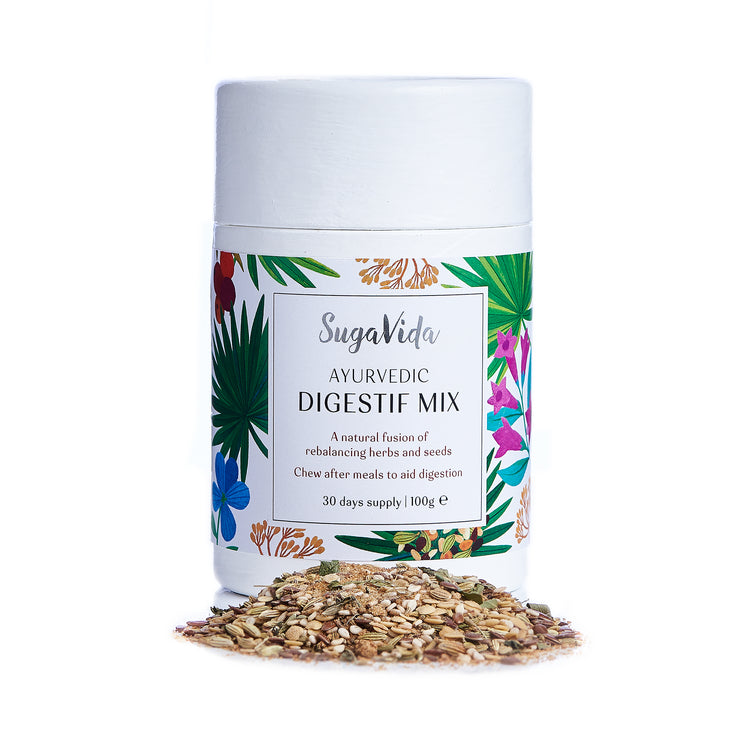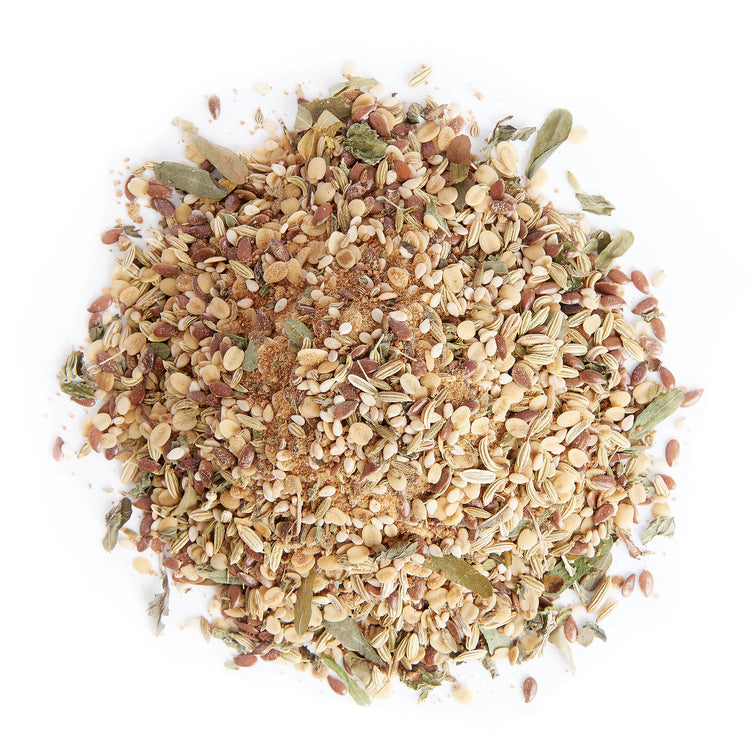 100% Natural
Award Winning
Great service
I have been using Digestif Mix for over a year and am very pleased with the results.
Superb Digestif Mix
This mix is great. I am not a fan of aniseed flavoured stuff normally but have got used to it and it's a good balance. Feeling good two weeks plus in so will continue.
Love this stuff!!
I suffer with a really sensitive digestive system, and am gluten and dairy intolerant. I have constant swollen tummy and discomfort. This product relieves, reduces and generally makes my whole middle area feel and look amazing!! cant recommend highly enough.
Ayurvedic Digestif Mix.......
......is an excellent product and does wonders for my digestive system!
Digestif Mix
It's so tasty! I love the mix of savoury and sweet and how all the different flavours jump out and dance around my tongue. I'm early days with it so I don't know if it will fix my gut issues yet but I can certainly see/ feel how it activates my digestive juices!