Harness the healing power of SugaVida
Delicious SugaVida Palmyra Blossom Nectar is packed full of nutrients that deliver powerful health benefits
Eat Your Way To Better Health
Empowering wellness through delicious, easily incorporated superfoods
Natural remedies that deliver real results
Products inspired by Ayurveda to improve symptoms of every day health issues
100% Natural
Award Winning
Available Worldwide
What Is SugaVida?
SugaVida literally translates to mean sugar of life.
It is the brand name for the world's most nutritious natural sweetener.
Palmyra Blossom Nectar. 
Wild harvested from the sacred South-Indian Palmyra tree, this special nectar is packed full of nutrients including a rich source of B-vitamins & minerals that deliver proven health benefits.
Award winning Palmyra Blossom Nectar is the core ingredient inside all of our Ayurvedic inspired superfoods.
LEARN MORE
What Can We Help You With?
Click the icons below to discover how SugaVida can help you.
Looking For A Sugar That's Actually Good For You?
Award Winning SugaVida Palmyra Blossom Nectar is a natural plant-based packed full of nutrients and delivers powerful, proven health benefits.
Unlike artificial sweeteners, it tastes delicious with a LOW Glycemic Index of 35.
The patented natural and organic compound in our Palmyra Blossom Nectar, Palmyrin, reduces inflammation - the root cause of most diseases!
Additional Benefits:
🌱 increased alertness
🌱 increased energy levels
🌱 improved skin health
🌱 boosted immune system
🌱 balanced hormones
shop now
Unleash the Healing Power of Turmeric
SugaVida Turmeric Superblends uniquely contain 7%  curcumin, the key component in turmeric which delivers its powerful health benefits compared to others.
Triple the strength of typical shop bought turmeric and available from only four organic farms in India, we boost it with Palmyra Blossom Nectar and complimentary spices to create our multi Great Taste Award winning Superblends.
Try Superblends Today!
Support For Joint & Bone Health
Save 21% - Winter Superfoods Bundle!
Protect yourself and your family during the winter months.
Fight cold and flu effectively! Ditch costly and synthetic vitamins for our powerful Ayurvedic combination that you can easily incorporate into your meals.
SAVE £12.99 👉
BUNDLE & SAVE - DIGESTION AID
Reboot & Restore Your Gut!
Seeking powerful relief from indigestion, bloating and other digestive imbalances?
We recommend our revolutionary Ayurvedic Digestif Mix to help restore healthy digestion the natural way.
Start with our Digestive Reboot & Restore Programme and SAVE £10.
SAVE £10
Let customers speak for us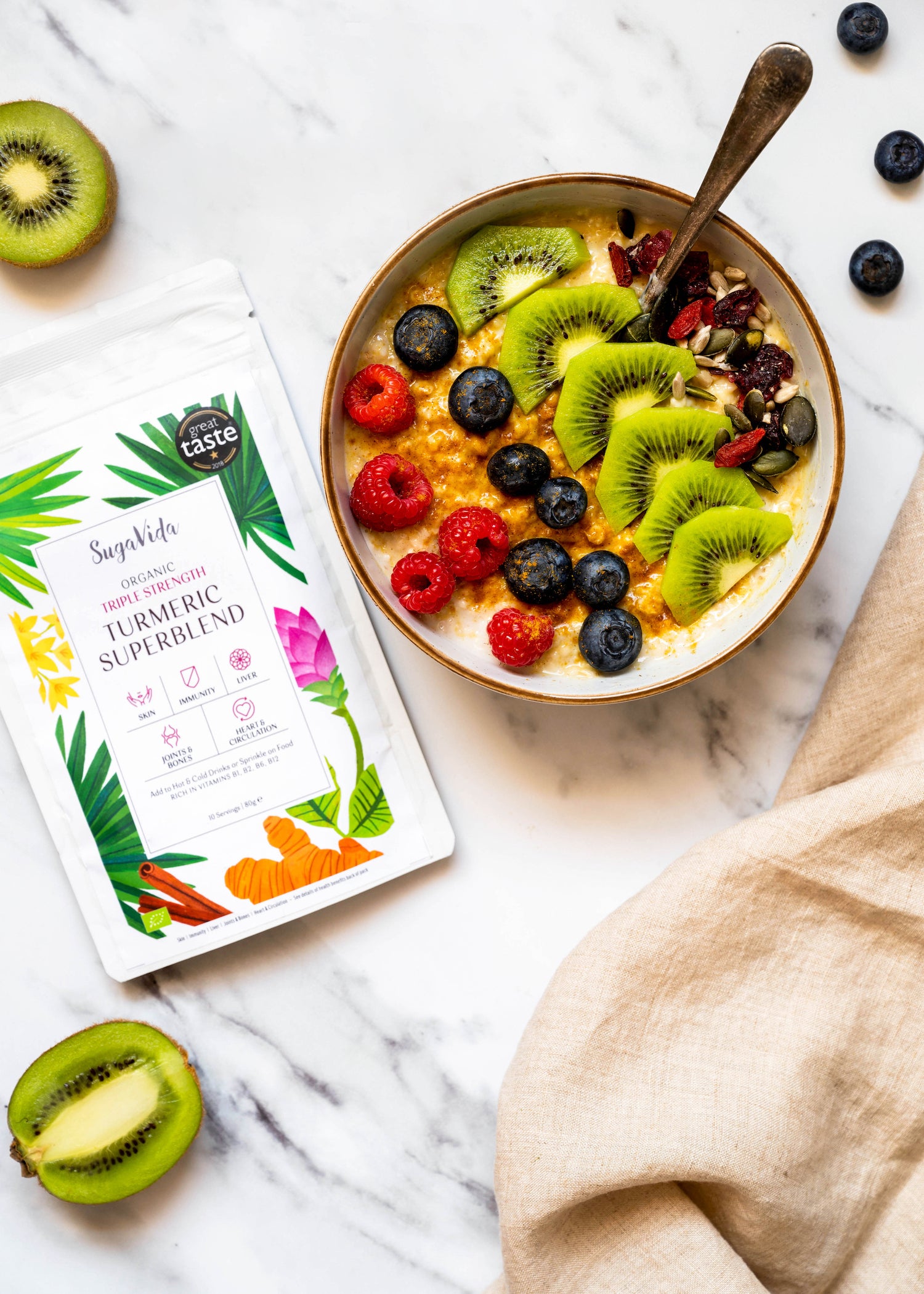 Remedies That Actually Work!
Using the wisdom of Ayurveda – the world's oldest healing system,we've developed a range of powerful products to provide natural relief from everyday symptoms such as sugar dependence, indigestion, arthiritic pain, poor blood circulation, low energy and much more.
READ MORE
Loved By Nutritionists & Health Advocates


I have grown to love this unique and delicious sugar alternative.

Dale Pinnock - Medicinal Cook
I love it. I've been eating it by the spoon full! It's my new favourite thing, a great sugar alternative and adaptable for everything.

Jo Wood - Green Guru
Palmyra Blossom Nectar adds a welcome sweetness, yet has a low glycemic index so does not play havoc with your blood glucose levels. And, while refined sugar provides 'empty calories', Palmyra Blossom Nectar contains plant-based vitamins and minerals including iron, magnesium, calcium and vitamin B12.

Dr Sarah Brewer MD - Nutritional Therapist & Author
My staff and I have loved using this as an alternative to refined sugar. It tastes great and has the added bonus of giving us a boost of essential minerals & vitamins.

Sarah Doukas - MD Storm Models
Many of my clients have had fantastic results using Ayurvedic Digestif Mix

Vicki Edgson - Leading Nutritionist
As Seen In