Turmeric Superblend Original
Regular price

Sale price

$35.00
Only Available Online.
• High-Quality Grade Containing Triple-Strength (7%) Curcumin–the most powerful whole-root turmeric.
• Chemical Free and Organically and Sustainably Wild-Harvested.
• The Only Great Taste Award-winning Turmeric Superblends.

• Expertly-Blended Ingredients That Optimise Turmeric's Remarkable Health Benefits.
• Easy Absorption.

• Versatile in the kitchen, delicious in food, and cold and hot drinks.

• 10+ years of great customer and industry reviews.

• Made of a traditional Ayurvedic formula.
 Turmeric Health Benefits
Helps keeps the skin healthy
Helps maintain the efficacy of the immune system
Helps maintain the health of joints & bones
Helps maintains the health of the liver
Helps support heart function & blood circulation
Product Awards
SugaVida's Turmeric Superblend with Cardamom won 1 Gold Star in the 2017 Great Taste Awards – the world's most trusted food and drink awards.
Ingredients

Organic Palmyra Blossom Sugar (SugaVida - contains Palmyrin™), Organic Turmeric powder, Organic Black Pepper, Organic Cinnamon powder, Inulin powder, Coconut extract.
Nutritional information

Nutritional Information Per 100g: Energy 1552kJ/365kcal; Fat 1.0g, of which saturates 0.6g; Carbohydrate 86.5g, of which sugars 79.66g; Protein 2.6g; Salt 0.32g.

Vitamins and Minerals per 100g serving: Vitamin B1 2.65mg; Vitamin B2 5.34mg; Vitamin B3 7.8mg; Vitamin B6 3.5mg; Vitamin B9 1130ug; Vitamin B12 6.5ug; Iron 6.55mg; Copper 0.76mg; Calcium 352.81mg.

Vitamins and Minerals % Nutrient Reference Values Per 8g serving: Vitamin B1 19; Vitamin B2 30; Vitamin B3 4; Vitamin B6 20; Vitamin B9 45; Vitamin B12 20; Iron 4; Copper 6; Calcium 4.
Recommended Usage

Try adding a teaspoon to smoothies, juices or protein shakes, sprinkle onto porridge, or blend with hot milk to create a traditional Golden Milk.
Servings

30 servings (8g) per 240g pack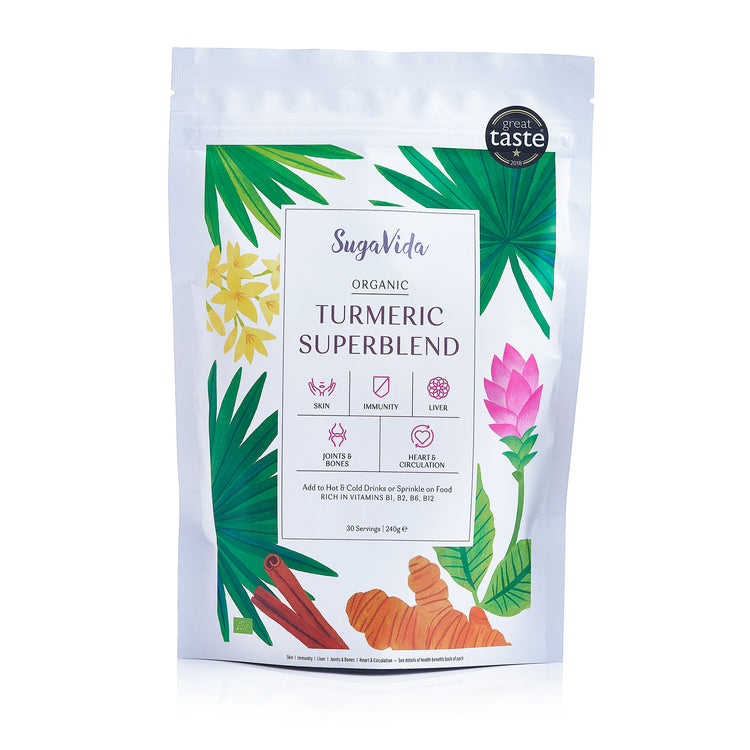 100% Natural
Award Winning
SugaVida Original
It feels as though the recipe has been changed. The blend feels much more peppery and less pleasant.
My knees are so much better!
My wife and I feel as though triple blend Turmeric is maintaining our health with out aging mentally or physically. We are quite satisfied.
Just as it says on the packet and quick delivery
It's a bit strong tasting but that's my personal opinion. Ingredients are of the highest quality though and it's a little too early to tell if it's benefitted me health wise.