Turmeric Superblend With Ginger
Regular price

Sale price

$37.00
Only Available Online.
• The Only Great Taste Award-winning Turmeric Superblends.
• High-Quality Grade Containing Triple-Strength (7%) Curcumin–the most powerful whole-root turmeric.
• Expertly-Blended Ingredients That Optimise Turmeric's Remarkable Health Benefits.
• Easy Absorption
• Versatile in the kitchen, delicious in food, and cold and hot drinks.
• 10+ years of great customer and industry reviews.
• Organically and sustainably wild-harvested.
• Made of a traditional Ayurvedic formula.
 Turmeric Health Benefits
Helps keeps the skin healthy
Helps maintain the efficacy of the immune system
Helps maintains the health of the liver
Helps maintain the health of joints & bones
Helps support heart function & blood circulation
Product Awards
SugaVida's Turmeric Superblend with Ginger won 2 Gold Stars in the 2019 Great Taste Awards – the world's most trusted food and drink awards.
Ingredients

Organic Palmyra Blossom Sugar (SugaVida - contains Palmyrin™), Organic Turmeric powder, Organic Black Pepper, Organic Cinnamon powder, Organic Ginger powder, Inulin powder, Coconut extract
Nutritional information

Nutritional information Per 100g: Energy 1552kJ/365kcal; Fat 1.0g, of which saturates 0.6g; Carbohydrate 86.5g, of which sugars 79.66g; Protein 2.6g; Salt 0.32g.

Vitamins and Minerals per 100g serving: Vitamin B1 2.65mg; Vitamin B2 5.34mg; Vitamin B3 7.8mg; Vitamin B6 3.5mg; Vitamin B9 1130ug; Vitamin B12 6.5ug; Iron 6.55mg; Copper 0.76mg; Calcium 352.81mg.

Vitamins and Minerals % Nutrient Reference Values Per 8g serving: Vitamin B1 19; Vitamin B2 30; Vitamin B3 4; Vitamin B6 20; Vitamin B9 45; Vitamin B12 20; Iron 4; Copper 6; Calcium 4.
Recommended Usage

Try adding a teaspoon to smoothies, juices or protein shakes, sprinkle onto porridge, or blend with hot milk to create a traditional Golden Milk.
Servings

30 servings (8g) per 240g pack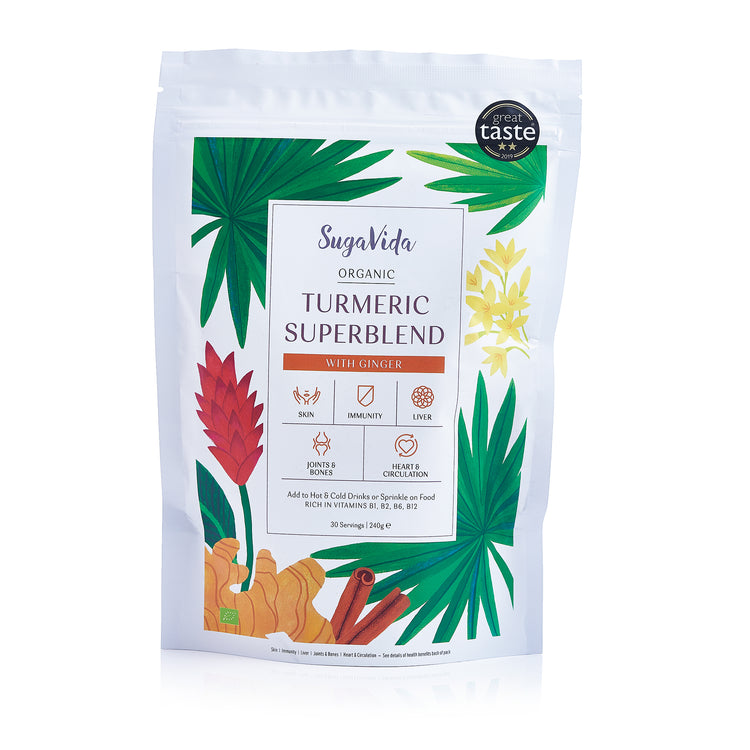 100% Natural
Award Winning
Not what I ordered.
I ordered the ginger but received plain.
I emailed & was told to send it back (you'd send postage label) but I'd already started using it as I needed it.
Turmeric Superblend
I have been using this product for several years now, it really helps ease the pain in my joints caused by osteoarthritis. In addition it makes a lovely comforting drink, in a variety of flavours.
Ordering is easy and delivery very prompt. I can't recommend this product highly enough
Turmeric Superblend With Ginger
Gives porridge more flavour!
I add a rounded teaspoon of my Turmeric and Ginger Superblend to my breakfast regular of organic porridge oats, which needs an extra boost of flavour (otherwise I find it rather bland). I love it!
What a boost for porridge
My go to breakfast: porridge, Turmeric with ginger and just a dash of honey. I never get bored of it. The turmeric just transforms the whole experience.